So, after my brain quit working for about a week, and a road trip across the country, I finally finished a series of sculptures that I have been working on for a while, and did a preliminary installation: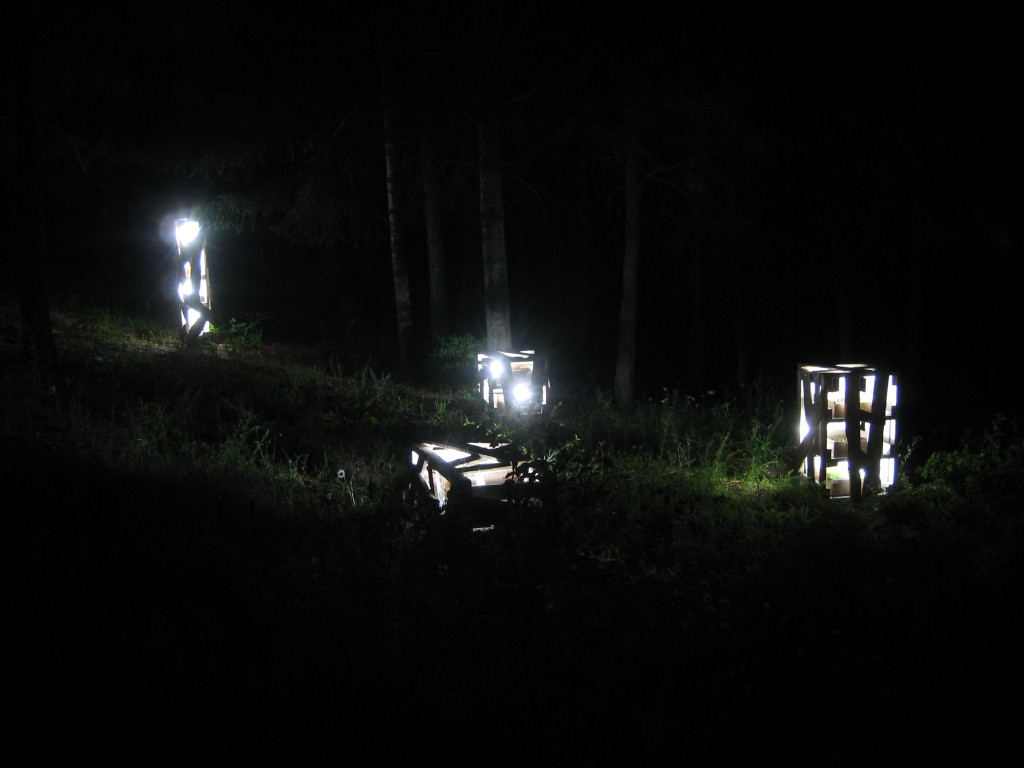 The original piece that I completed a few weeks back is on the far right in the photo. Each piece has several wooden trays with grass planted in them. I haven't had to name anything in a while, so I'll have to see what I can come up with.
Looking back over the past few weeks it didn't seem like I had accomplished much, so I'm currently scratching my head, as it seems like a lot in retrospect.
I decided to look for a few gallery/studio/artist assistant positions while I am staying in the Spokane/Coeur d'alene area. The contemporary art community in the Pacific Northwest is incredibly small, which took me a little while to realize. While working at the Yellowstone Art Museum in Billings, MT, I was introduced to a number of prominent career artists from the Pacific Northwest, living and dead. Artists who's work I was introduced to in Billings that I ran in to in Portland as well include Jerry Iverson (rep: Pulliam Gallery), Deborah Butterfield: (PAM, Airport, all over the place), Rudy Autio (Lawrence Gallery, I was also astonished when I went to New York and saw an Autio piece on a poster for MOMA in the subway, I honestly had no idea), and Ken Shores (also at Pulliam Gallery). And now I am checking out the scene in Spokane and running in to artists from Portland AND Montana.
Networking:
I emailed the director of the Yellowstone Art Museum to see if she knew anyone in the Spokane/CDA region that might need a studio assistant. She didn't know any artists in the area, but put me in touch with the senior curator of art at the Northwest Museum of Arts and Culture. From here, the curator at the MAC put me in contact with Ryan Hardesty (we'll get back to him), and also Scott Kolbo. Scott is a professor at Whitworth University, and is also a member of the Saranac Art Projects gallery in Spokane. From here, Scott put me in touch with the director of Saranac Art Projects, who invited me to join the gallery (co-op). (!) The director is Megan Murphy who is represented by PDX Contemporary, and also runs Artocracy.org. Saranac Art Projects also had an exhibition this past fall which featured work from Harrell Fletcher and Marc Dombrosky (rep: Platform Gallery in Seattle, PDX Contemporary, and also featured at an APEX exhibit at the PAM). Harrell Fletcher is the director of the MFA in Social Practice at Portland State University that I applied to and was accepted to this past fall.
Getting back to Ryan Hardesty, he is represented by the Lorinda Knight gallery in Spokane. I interviewed with Lorinda a few weeks back, and I will be doing a gallery internship July through November this fall. The first thing I will be helping with at the end of July is taking down the current show which features work from Andrew Bohl who is also represented by the Augen Gallery in Portland.
It's amazing how small the community of contemporary artists is throughout the Pacific Northwest.
So.. other than networking and making connections in Spokane, my mom, sister and I drove down to San Antonio last week. My sister moved down with her husband, where they will be living for the next four years. Austin is only an hour and a half north of San Antonio, so we had the opportunity to drive up on Monday. I was throughly impressed by the dinosaur bones and the giant cannon at UT Austin's campus, but the college of art was amazing. I wasn't even expecting to get in to the fine arts building (on a Monday afternoon during the summer). Not only was the building open, but so were all the studios and sculpture shops. UT is very near the top of my list of schools that I am applying for next year, and it was amazing.