Ever seen a blender play the congas?
Go ahead and check that off of your list of things to see before you die.
The past month has been incredibly busy, but I've managed to pull through with mere caffeine (which surprised me.) The first year review show went off without a hitch. We were reviewed in three local news papers; the Santa Barbara Independent, The Bottom Line, and also in the Santa Barbara News-Press. Unfortunately, the SB News-Press charges for their online editions, but I think the title of the review sums it up: "STUDENTS OF BEING THERE: A short-run show of work by nine first-year UCSB MFA graduate students begs to be experienced now."
Probably one of the more insane weeks I've had in the past few years consisted of installing the show, hosting my parents who came to visit that week, building a desert island for the Joshua Tree Music Festival, tearing down the show, putting my parents on a train to San Diego, and then driving out to the desert to install the island.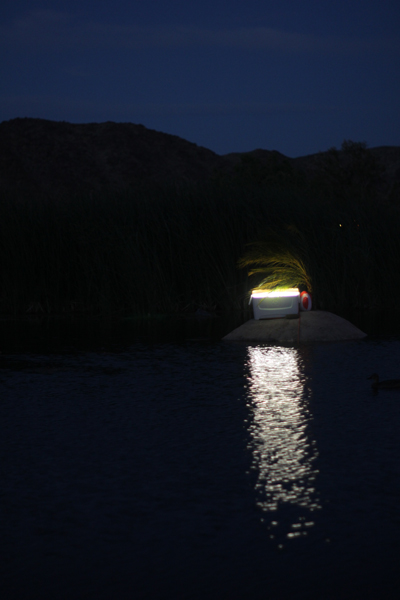 On the first evening, the cooler lid remained closed. The following day, it was opened to reveal a dozen or so bottles of water all the way from Fiji. The idea was to present an idealized version of a desert island and/or oasis, but to play with the idea of 'island fever;' where the islanders can't wait to get the fuck off the island, and the main-landers can't wait to go there for vacation. I'll have some more photos posted on my website soon, and there will also be an article coming up in Palm Springs Life Magazine.
More recently, I was awarded the Florimbi 'addicted to art' purchase award. David Florimbi is an artist that was born in Pennsylvania, raised in Madrid, and eventually found his way to California . He landed a day job in Hollywood and gallery representation by Shoshana Wayne. We had the opportunity of visiting his studio in downtown Santa Barbara (which they recently tore down to begin construction of an REI store), and there was a platinum record hanging on the wall. Not just any record, an MC Hammer record. We inquired, and he told us that he directed just about every MC Hammer music video that we would have seen. So what did he purchase? The Earth Gravity Liberation Apparatus that was used in the 'Skull Shining Breath' project, and also exhibited in the Yummier/Brainsicklier show. He stopped by last Wednesday to pick up his shiny new bong, and I was excited to hear that he was going to put it in his home, right next to his Murakami piece.
Now, on a separate note, several of the MFA students (including myself) have successfully completed our initiation into California. It all started a few weeks ago when Jennifer West came to visit. She was in town to install a piece titled: "Dawn Surf Jellybowl Film (16mm film negative sanded with surfboard shaping tools, sex wax melted on, squirted, dripped, splashed, sprayed and rubbed with donuts, zinc oxide, cuervo, sunscreen, hydrogen peroxide, tecate, sand, tar, scraped with a shark's tooth, edits made by the surf and a seal while film floated in waves- surfing performed by Andy Perry, Makela Moore, Alanna Moore, Zach Moore, Johnny McCann – shot by Peter West – film negative sanded by Mariah Csepanyi, Andy Perry and Jwest)" (yes that's the whole title) for the Home Show Revisited that the Santa Barbara Contemporary Arts Forum has organized. A few of us had the pleasure of attending the opening of her film. She installed it at a famous surfer's home in Carpinteria. A few blocks from the beach, we showed up to the opening before the the art crowd gathered, and we got to mingle with the surf crowd. Two days later I bought a wet suit and started shopping for a surf board. Already a year into the MFA program, it would be a shame to waste any more time not taking advantage of the fact that we can steer our bikes with the left hand, carry our surfboards with the right hand, and within ten minutes be at some of California's legendary surf breaks.
Yesterday, eight of us took a group lesson with Doug from Surf Country. Aside from having a great time catching waves, the highlight was definitely when Doug put his 12-year-old dog Sammy on a board to show us how it's done. We're all very much looking forward to building our skills, and supporting local surf businesses like Channel Islands Surf Boards and Sex Wax. Yes. We live in the belly of the beast (I heard that Kelly Slater has a house around here somewhere…). And this surf-bug is going to make it difficult to write that 20-page theory paper on 'Island Fever' that is due next week.
What's next? A residency at Ox-Bow in Michigan this July, and a group show in LA with MFA students from UCLA, CSUN, Otis, Claremont, and Art Center, but we'll save that for another post.