I stacked all my plants in the corner of the deck that gets the most sun, and it was a beautiful site.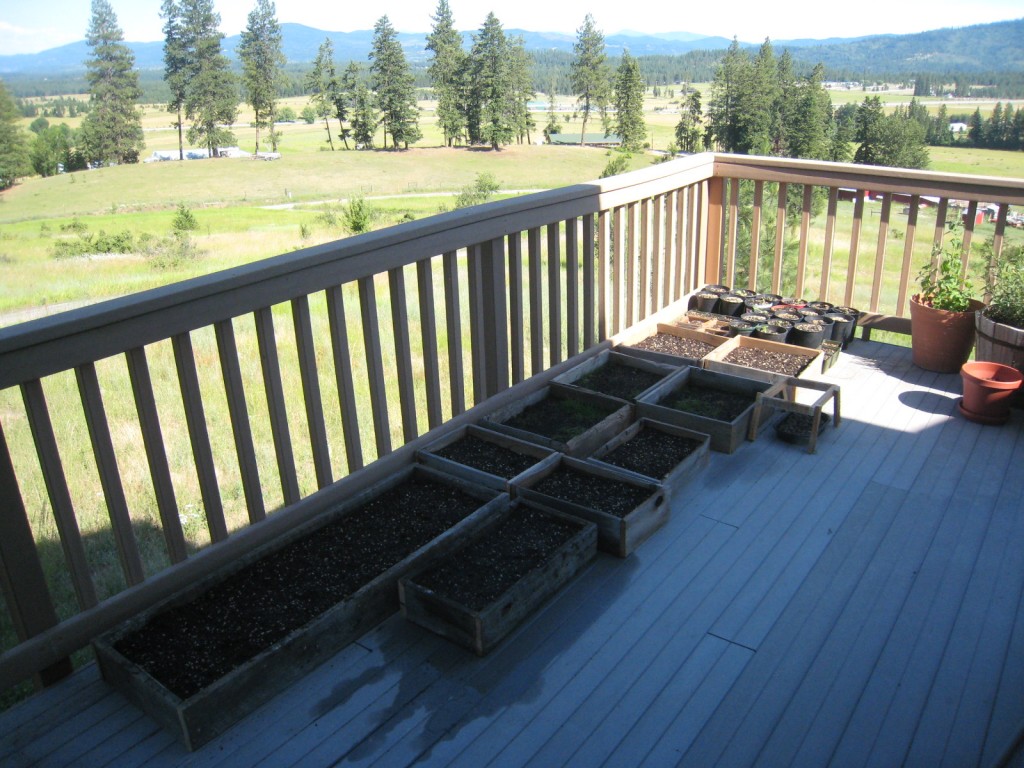 I love the fact that these are all 'art projects.' The first two boxes are for the AK-47 that I am making out of suet and bird seed, and the bomb that I am sculpting out of rainbow colored candy. All of the other boxes are for the set of sculptures I posted last. They are all made mostly out of old cedar fence boards. The two in the front are made out of wood (I think it's pine) that I salvaged from an old gate that I found lying on its side out in the woods; the bottoms are cedar, and the frames are pine. Each box has grass seed planted in it. Soon enough I'll have my own little lawn growing. I elected to give all of the boxes a little bit more sunshine than they were getting in the sculptures so I can try and have some turf in time for the Betty Bowen award deadline at the end of the month.
The plastic pots in the back are my tobacco and poppy seedlings that I recently transplanted. I had intended to plant them in pots made out of recycled plastic grocery bags (HDPE) that I molded with a heat gun, but after making a batch of those pots I decided against it.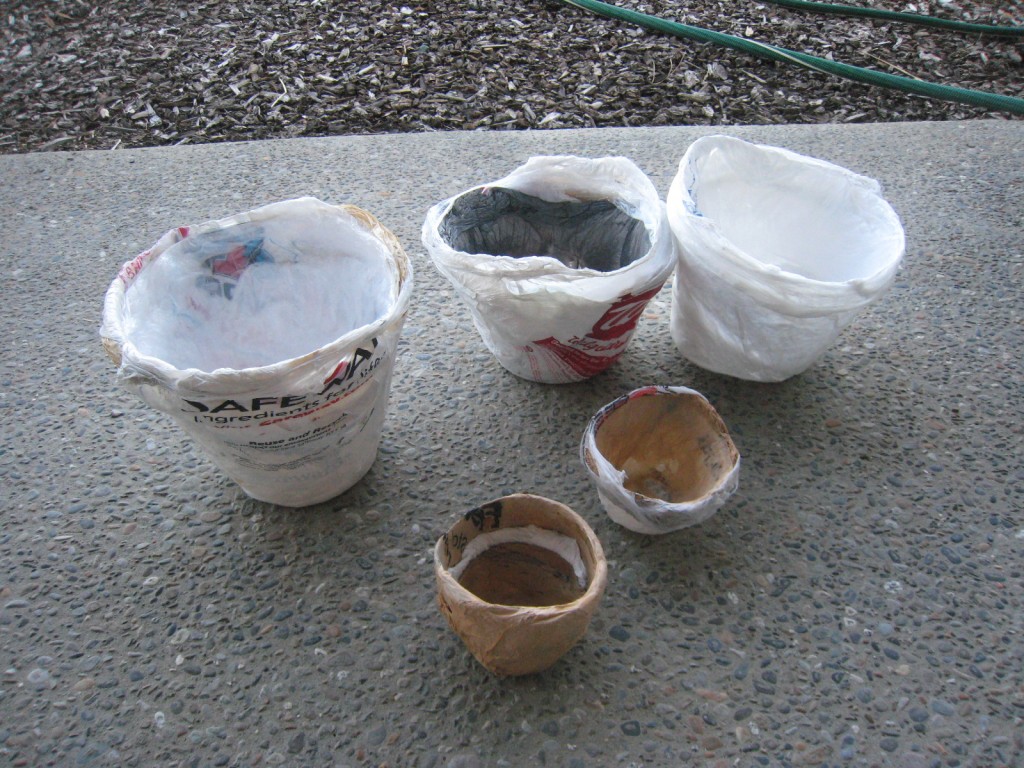 These were made using terra-cotta pots as the mold. The larger pots might have used 20+ grocery bags, and they are still relatively flimsy. The smaller pots are a lot more rigid. I decided they weren't that practical for what I needed them for. I intend to grow the plants in their own pots, and for installation in the planter boxes, I will simply surround them with styrofoam and cover everything with a layer of soil to create the illusion that the plants are indeed planted in the boxes.
Before transplanting the seedlings I had read that poppies do not like to have their roots disturbed; all but two of them died after I transplanted them. However, I sowed some new seeds, and considering that poppies grow like weeds, they should be popping up in no time. Isn't it amazing that you can pick up seeds for heroin/opium/codeine/POPPY SEED MUFFIN poppies at your local plant or hardware store?
I planted all the poppies and tobacco in this magic potting soil mix that my mom has had a lot of success with. If you are so inclined to mix your own soil instead of buying a bag full, here is the recipe:
5 gallons finished compost
1 gallon builders sand
1 gallon perlite or vermiculite (I used perlite)
1 cup of granular, all-purpose organic fertilizer (slow release). I used a 5-5-5 mixture; nitrogen-potassium-phosphorous.
That little mesh covered plastic tray is full of my coffee seeds that I am trying to sprout. The grow light I've had them under for at least 4 weeks has not been very fruitful, so I'm hoping the Sun will kick them in gear.
Lastly, there's this little Alberta Spruce growing in a pot on the opposite corner of the deck.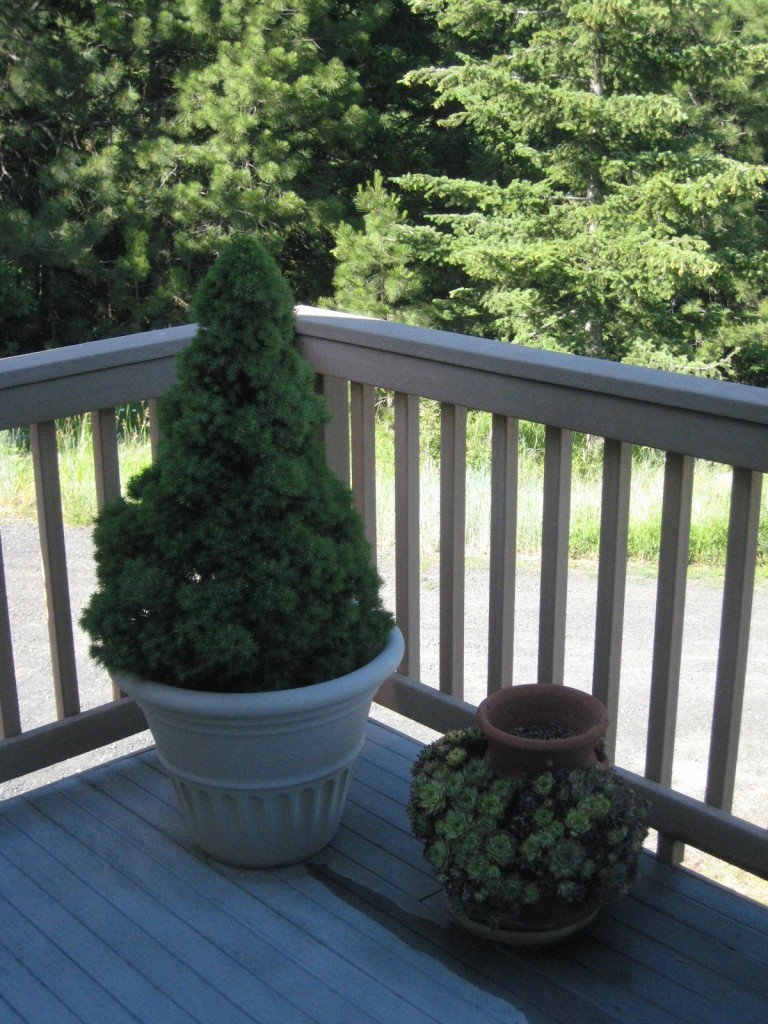 And there is something very peculiar about it.
We're trying to overcome our curiosity so that momma can sit comfortably.