This year to celebrate Independence Day I wrangled up five different recipes from around the internet for traditional Iraqi food. Everything turned out delicious, and I felt it was a good way to contemplate American Independence. We enjoyed the meal with two bottles of wine; a Cellar Red from the Walla Walla Valley to start, and a Spanish Rioja with the meal.
The first dish we made was traditional Iraqi flat bread which is called Samoon. My mother made a batch of hummus to go with the flat bread.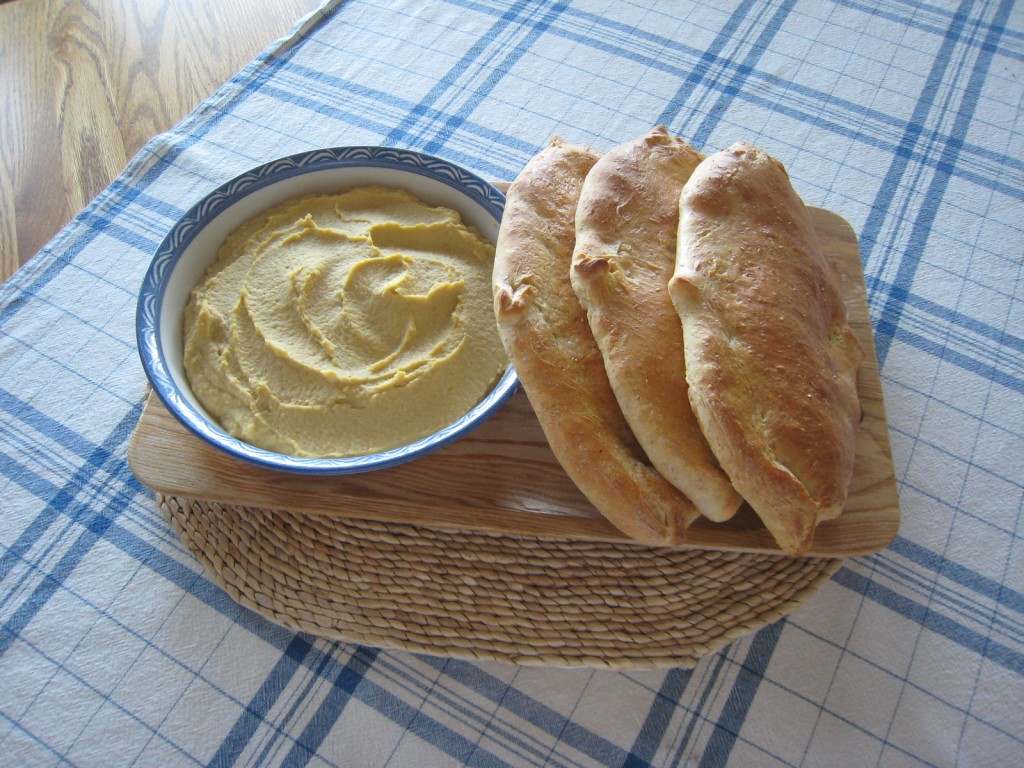 I used the recipe for Samoon posted here. It is a fairly basic bread that turned out very well. This recipe makes about 10 pieces.
This is the hummus recipe we used, courtesy of my Uncle Tony:
2 cans Garbanzo Beans
6 peeled garlic cloves
Juice from 1 Lemon
2 Tablespoons Tahini
Now "process" the ingredients in a food processor while drizzling 1/4 to 1/2 cup of olive oil, and 1/4 tsp. of salt. Drizzle more as the consistency turns drippy. Add oil & paprika on top. Serve with pepperoncini and tomatoes (we skipped this part).
The next dish we made is called "Lis'an El Qa'thi – Judges' Tongue" I used the recipe posted here. It reminded me of a Lithuanian dish called balandelia which is ground beef with rice wrapped in poached cabbage leaves and baked in a tomato based sauce. Lis'an El Qa'thi is a ground meat mixed with a few spices which is then wrapped in browned egg plant, and baked in a tomato based sauce as well. The meat we used was ground elk steak from an elk that my father's hunting buddy shot near Ledore, Idaho.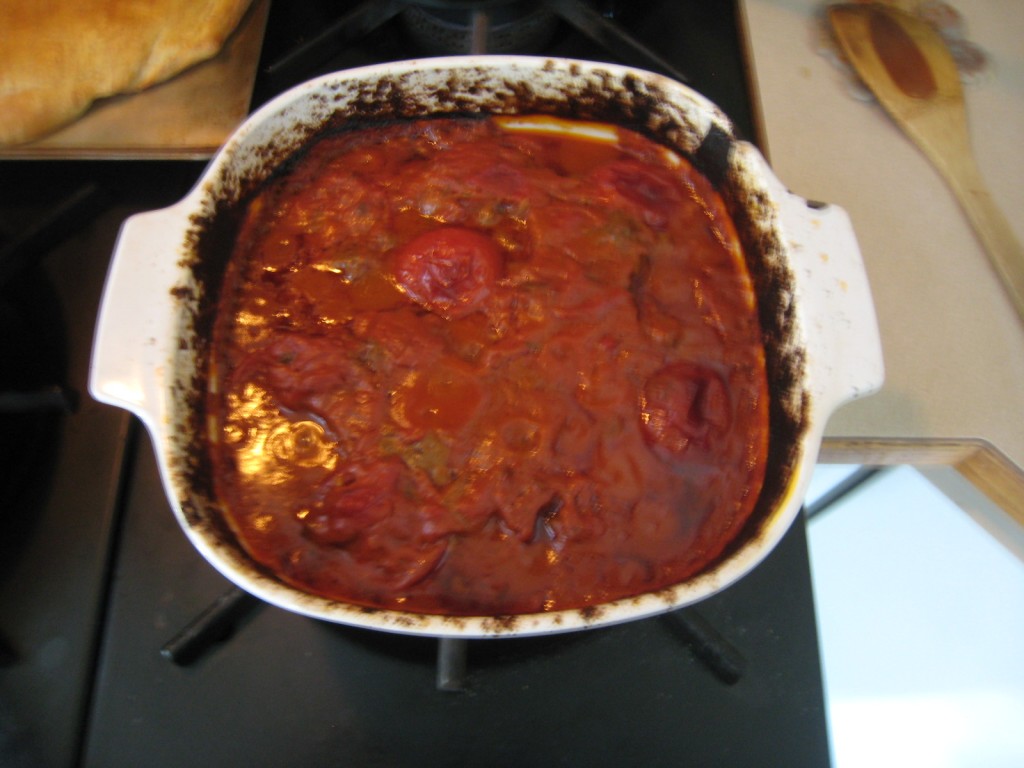 Next on the menu was kebab. I used the recipe posted here. Rather than using the 1 inch wide skewers mentioned in the recipe, I just used standard kebab skewers and wrapped the meat mixture around them. The meat we used was ground venison burger that was cut with pork fat, and in the wake of preparing several dishes at once I accidentally stirred in an egg as well (the egg was for the Lis'an El Qa'thi). Since we didn't have any sumac to serve with it, I looked for a substitute and found that ground lemon rind can be used. The kebab was great, but it was overpowered by the stronger flavors of the Lis'an El Qa'thi dish.
For a side we made an Iraqi/Kuwaiti rice called Timman. The recipe is here. I didn't allow enough time for the rice to cook as long as it called for (and we used brown basmati instead of white), which actually lent for a pleasant dish. The rice was slightly crispy and charred, which went well with the toasted pine nuts and gave the dish a subtle smoky flavor. It complimented the kebab and Lis'an El Qa'thi well.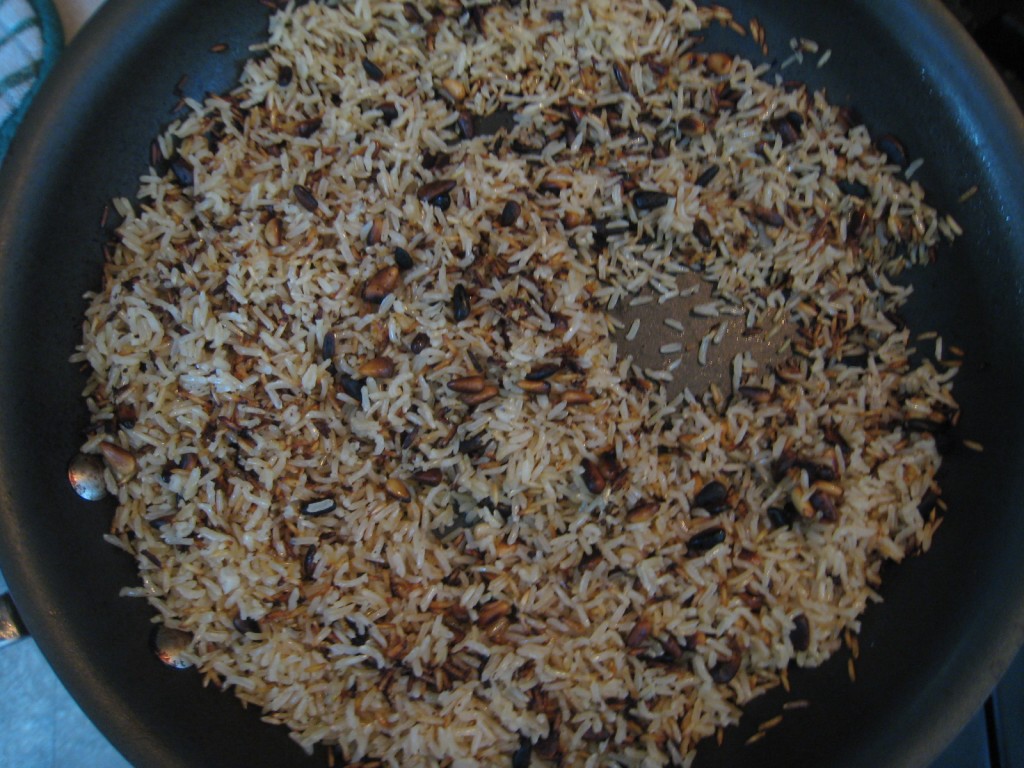 And we garnished the dish with chopped parsley and grated lemon rind.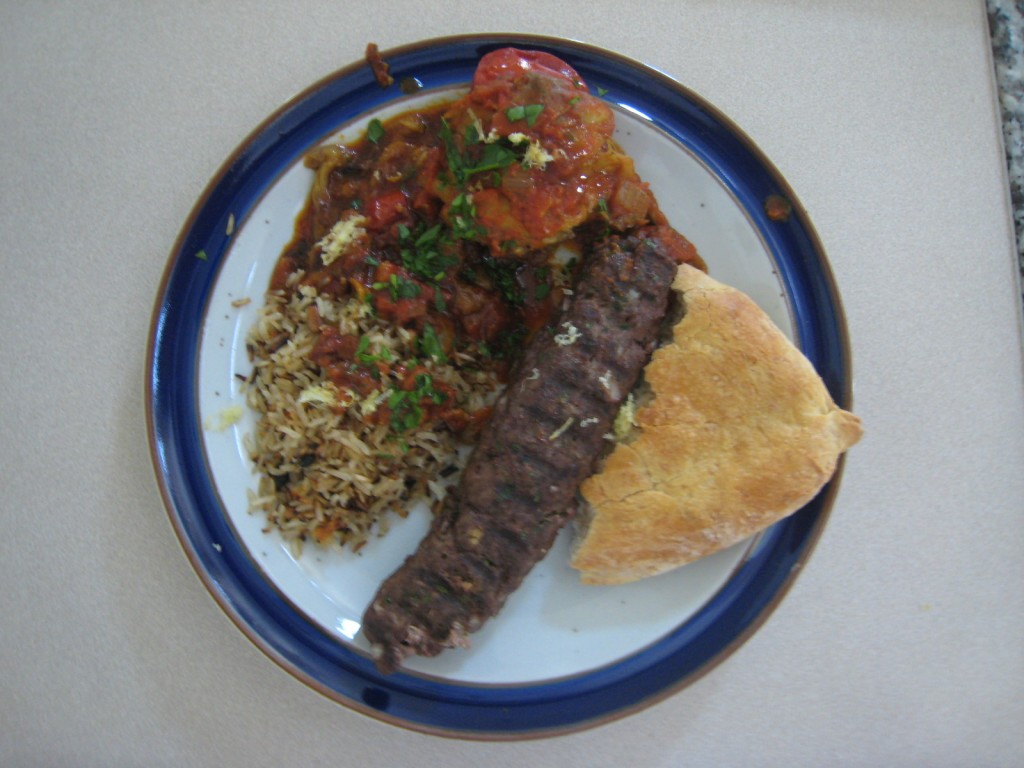 Lastly, we made a desert called Halawa Halib. A very basic recipe that makes a caramel tasting souffle type dish. When the water/sugar mixture is added to the other ingredients it thickens immediately. I spread it out in a shallow pyrex baking pan and let it chill in the fridge before we ate it.