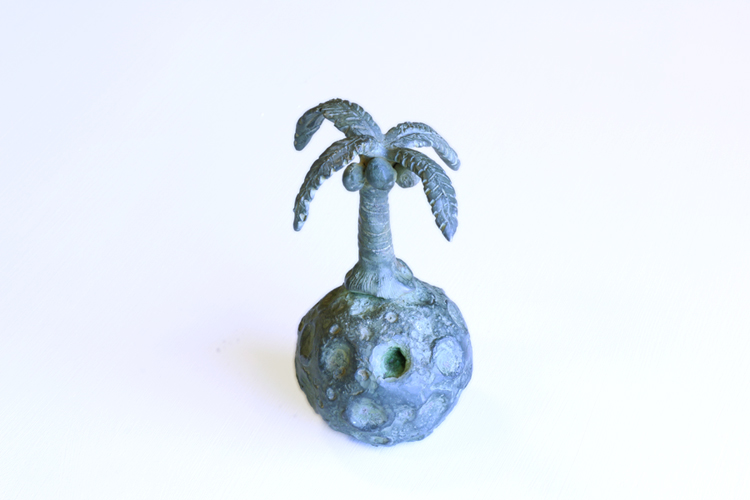 Here's the final patina on the bronze piece… I'm very happy with how it turned out, and even more excited that the final bid garnered a nice donation to Roots & Culture at their annual benefit auction. The installation for Dark Star went smoothly, but down to the wire (of course..always). Smoothly in the sense that we didn't have to pull any late nights in the gallery, and though my cousin arrived precisely at 6 pm for the opening and pointed out that I already had a drink in my hand, I'm pretty sure we finished installing around 5:59. Over the years I've learned that I'm motivated by deadlines, but also that if I finish with time to spare, I don't feel like I've put enough time and thought into the project.
The opening was great. We had a good stream of people coming through; family members, old friends from Ox-Bow, and a whole bunch of new friends too. Eric cooked up some tasty empanadas, and busted out an extra-smooth playlist for the after party. Many thanks to Bad at Sports who listed us in their Top 5 Weekend Picks, and also for the E-Dogz Zombie Apocalypse Refuge Center shout in Edition #9. Check out Eric's post about the silkworm pupae and painkillers that we served to a few adventurous patrons, and quite a few cautious ones. What surprised me most is how hesitant people were toward Spam! I guess I have too many Hawaiian and Filipino friends.. but seriously.. someone turned down Spam for silkworm pupae?
For this body of work I kept reverting back to a conversation I had with Chris Wiley at an opening last year. I was describing the various interests I have, and he bluntly and eloquently pointed out that my work is about waves. It was a somewhat lucid moment, and gave me a different perspective about how I approach my work. The installation at Roots & Culture begins with a video segment I shot at the 2013 Rincon Classic surfing competition. I stitched the waves together to create a three-minute seamless loop, and mounted it to the wall in a gold frame. The audio is transmitted through an old sun-bleached beach chair that is attached to the FM transmitter and functions as the antenna. The signal makes its way across the gallery, receiving interference from the flashing sculpture titled Billboard. I first started noticing empty sign frames like this in Los Angeles, where a business no longer exists and they've removed the facade of their signage but left the lights on. I find them fascinating and see them everywhere now. The fluorescent bulbs don't take kindly to being flashed on and off like this, and as they slowly burn out they get softer and softer and the aggressive flashing becoming increasingly hypnotic.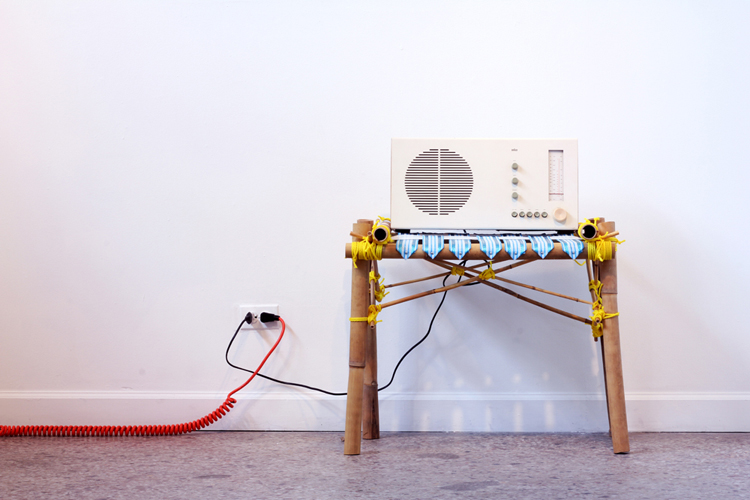 I stumbled across the work of Dieter Rams earlier this year and realized that he is perhaps the source of the clean, white aesthetic of gadgetry & technology that I am so attracted to. Rams was the Chief Design Officer at Braun from 1961 to 1995, and his work is seemingly the root to many of Apple's designs as well. The vintage Braun RT-20 radio included in the Shrine for Dieter Rams (above) was incidentally designed in 1961 at the very beginning of his Chief position with the company. I haphazardly stumbled into this piece; Braun radios are hard to find and I initially wasn't sure what to put it on either. Eventually I devised this clash between the tasteful design of the radio and the kitsch bamboo aesthetic I've been using. After working for the The Haas Brothers in Los Angeles, and picking up a copy of Design and Art, I was much less hesitant to approach building something that could be considered a piece of "furniture." The book discusses the relationships between design and art, including an interview with Dieter Rams and also an article by Andrea Zittel, who designed the island that I'll be living on this summer. At some point I realized that the original concept for the bamboo structure in the Shrine was inspired by the side table I helped fabricate for the Haas Brothers' Versace Home collection. Though the final result is far from the original concept I came up with, I was initially curious how working for designers in a furniture shop would ultimately influence my artwork.
Finally, I had another lucid moment while installing my work for Dark Star. Kneeling in front of the Shrine for Dieter Rams to tune the 52-year-old radio, I realized that the ocean I was trying to pick up from the transmitter in the other room sounded nearly identical to the radio static I was trying to filter out.
I've posted videos and images of my work from the exhibition on my website, including a new series of cyanotypes and UV photodegradation prints I made with my tanning lamps. You can find it all here.
Roots & Culture is open Saturdays from 10-6 and by appointment. The exhibition runs through June 15th.