After being harassed just a bit more by the parking enforcement, we put in a call to an assistant officer to the mayor. The organization hosting the other spot, FutureWise, is very well connected. Lawyers and mayor's assistants and the whole bit. The Mayor's assistant eventually called us back and told us if anyone else came by and harassed us to maintain our humor and tell them that we were figuring things out. Not too long ago the assistant to the mayor called back and said that everything was now ok, no more harassment, and that the Parking Enforcement bureau/agency/dept/whatever wants to meet with us to discuss how to better plan the event next year. So today, we officially stuck it to the man.
Here are some additional images of the installation(s):
Above are the spacepod terrarium planters. Nasa meets Swiss Family Robinson. I'm pretty happy with them… though… there is another element that I will be working on as well. Stay Tuned.
I thought this would be a prime opportunity to do a reverse installation of the piece which I officially title: He Smelled Smoke As He Sipped His Lemonade.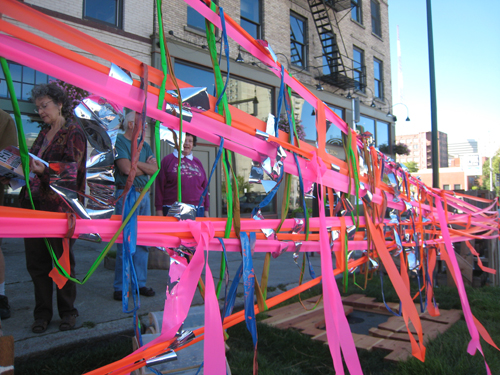 For extra safety, I strung some more neon tape around the FutureWise site. All in all, today was a good day. The installation turned out well, people were receptive, we got some publicity, and we stuck it to the man.