My trip to Texas was awesome. I had the opportunity to check out quite a few contemporary art centers/galleries in San Antonio as well as Austin; ArtPace, Bluestar, Okay Mountain, AMOA, the Blanton Museum, and the Mexic-Arte Museum, just to name a few. My visit to the UT art department went great. I was the only prospective sculpture student and had the opportunity to meet individually with two of the sculpture professors. They were generous enough to give me some feedback on my work and some input on how to strengthen my application, encouraging me to brush up on my history and recommending some very relevant reading.
After visiting the art department, I wandered around campus and took some fascinating pictures of video cameras mounted in the trees around the new bronze statue of Martin Luther King Jr. My friend Molly picked eventually picked me up, and we went to get lunch. On our way, we drove by a crime scene… with a body!!! We parked the car and opted to walk by the crime scene to see if we could get the scoop. Turned out it was a suicide; someone had jumped off a seven story parking garage.
After lunch we walked by the crime scene again and watched the coroners load the body on to a stretcher. We then made our way to city hall to check out a sculpture by Margo Sawyer, one of the professors I had met with. I wasn't sure what to expect from city hall, considering the ominous capital building, but it was awesome. I never found out who the architect was, but the building looked brand new and very modern. I found out later in the evening from a Landscape Architecture student that it has one of the largest green roofs of any modern buildings, with the roof above the parking garage hosting a quite number of trees.
We made our way through city hall, and admired the enormous art collection. Once we got to the second floor, we were looking for a way out and made our way towards the stairs. The door we ended up being alarmed; we set off the alarm at city hall! It was great, except that nobody gave a shit.
Later in the evening we made it over to east 6th street to get a few drinks, and someone smashed four windows on my friends car and stole my bag which contained my computer, camera, passport, a bunch of convoluted books, along with all the digital negatives of the work I've done over the summer. They broke in to eight other cars as well. Texas is awesome.
Over the past few days I replaced my camera and computer (thank you insurance) and got back to work. I installed this high tech birdhouse out in the woods this evening.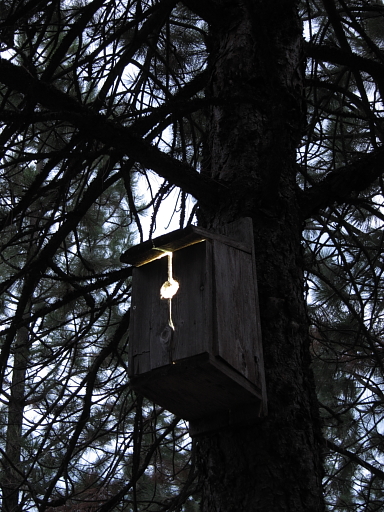 And I am pleased to report back that the hydroponic grass experiment is working great.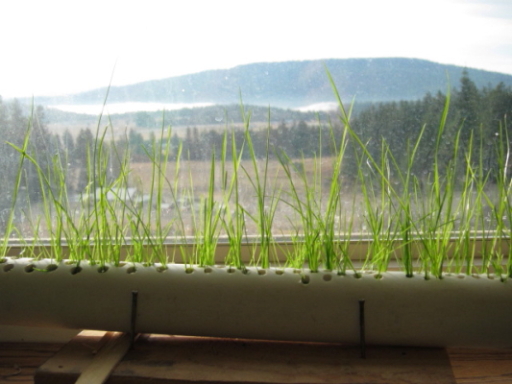 Interestingly enough, while brushing up on my history of environmental/ecological/land artists, I came across an artist who seems to be equally fascinated with grass, Michele Brody.