Yesterday morning I woke up at around 6 to take a deer decoy outfitted with safety vests out to the middle of the woods in order to photograph it at daybreak. I installed it at two separate locations, managed to get back home before it started pouring rain, and then headed to Gabriel Brown's place for breakfast, playing in the mud, and to meet these fantastic females:
Gabe lives in a fantastic house right on the Spokane river that seems to be in some type of 'neverland' area of Spokane. You basically go downtown, take a left, follow a gravel road, head down a steep hill, and then bump into gigantic black walnut trees, golden eagles flying around, abandoned beaver dams, and wet dogs trying to eat chickens. Yes. Not too soon after Gabe gave me a tour of the property, one of the neighbor's dogs nearly swallowed the golden hen pictured above, but only got away with a mouthful of feathers.
We ended up cleaning out an aquarium, digging up some half-frozen piles of compost, and moving a big table indoors to let it dry out, all in preparation for Chicken Sh@#.
At around 2 o'clock I headed back home to Idaho, and arrived to some glorious fog engulfing parts of the woods. Racing against daylight, I hurried outside with my safety vest covered friend and tried to find a good patch of fog to put her in. I tried twice, but in both instances the fog drifted away before I could get a good shot. But I eventually snapped her in this glorious location, which I was much happier with than either of the locations I had photographed earlier in the morning: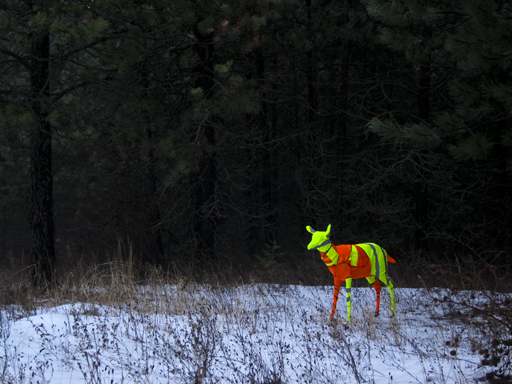 I had some qualms with this piece, but convinced myself to finish it anyway. I didn't feel it was relevant to my most recent work,but that it did help tie together the work I had done earlier this year. After discussing it with my cousin Arius, a fellow artist, I decided to wrap it up as the final piece I will be putting in my MFA application portfolios. After the fact, I am pretty happy with it. And now all I have to do is finish up a few essays, and I can get all my apps submitted, which will be a huge relief.