Back in December 2008 SOIL, a gallery in Seattle, had a call for curatorial proposals. While browsing through their member artists I came across Vaughn Bell, and promptly emailed her to see if she would be interested in putting a show together. She responded positively, and suggested we find some other artists and make it a larger, group show. I used this opportunity to get in touch with some artists whose work I really liked; Ryan Pierce and Josh Keyes, along with some artists whose work I not only enjoy, but has also also been highly influential to my own pursuits as an artist: Rollin Beamish and Andrew Jacob Schell.
With everyone expressing interest in doing the show together, the six of us tossed around a few ideas, and came up with the proposal for Fertilizing Utopias. The show was originally slated for Fall 2009, but was finally scheduled for February 2010. So with this additional time; over a year in the making, a few things evolved and a few things changed. Unfortunately Josh Keyes isn't able to exhibit due to a scheduling conflict (don't we all wish we had booked schedules planned two years out?). Further, a few of us have taken on slightly different angles within our work, compared to what we had submitted in our original proposal, and the additional time has allowed us all to make specific pieces for this show.
It will be Rollin's, Ryan's, Andrew's, and my first time exhibiting in Seattle, and none of us have met all the other artists in person. I am very excited to see everyone's work, and also to finally meet Vaughn and Ryan.
Also, like Saranac Art Projects, SOIL has taken the initiative to start a regular gallery-talk/presentation series. And like Saranac Art Projects, I get to participate in the first one! I will be leading a discussion at SOIL on Saturday February 6th at 2:00 pm with Vaughn Bell and Ryan Pierce in attendance. Stop by if you want to learn all about bionic hydroponics, the other artists' work, and what the hell fertilizing utopias means.
Lastly, if you happen to be in Spokane this Friday, theres gonna be a party goin' on at Saranac Art Projects: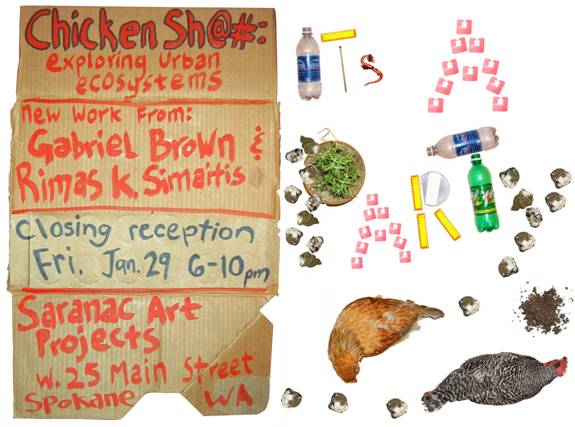 Gabe and I are proud to have officially joined the elite rank of those artists whose work has been questioned as whether or not it is actually art. (snark) Please join us for the closing reception!