I recently had a conversation with some friends in Spokane regarding how the city struggles to hold on to it's "born-and-raised" talent; that is, if you have a talent it is your ticket out of Spokane. Very few people from our generation have willingly stayed in Spokane in order to nurture their practice; be it music, writing, art, etc… (I can think of numerous incredibly talented individuals that no longer live here). The conversation went further to consider how this phenomenon affects the culture of Spokane and similar cities.
WIth that being said, (and giving consideration to some recent journalism out of Spokane), it was amazing to receive a warm welcome from the Seattle Weekly. Brian Miller, who also writes for the Village Voice and the LA Weekly, did an amazingly thorough job of interpreting my work (or "digging deeper" as some might say) and even drew upon lesser-accessible references to science fiction. I was ecstatic that Fertilizing Utopias made the Seattle Weekly's recommended art events, listed in between the Henry Art Gallery and a show from UW's first year MFA students at the Jacob Lawrence Gallery. The review of the show is posted here: fertilizing utopias. (Though the article focuses on my work, I am honored to be exhibiting with the other artists; Vaughn Bell, Rollin Beamish, Ryan Pierce, and Andrew Jacob Schell, who all produce incredibly high caliber work)
With this, along with graduate art programs calling to tell me that they have nominated me for fellowships, it's hard not to acknowledge and cash in my 'golden ticket.'
On a separate note, I'd like to thank Michael Alcantara for doing an amazing job on the posters he designed for the show: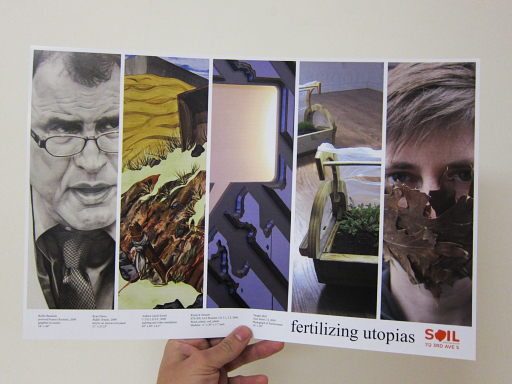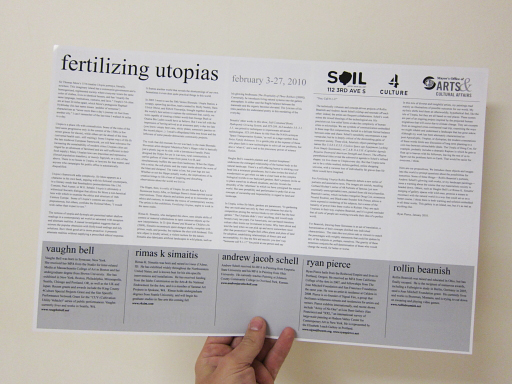 (Ryan Pierce wrote the essay on the back.. if you're curious, pick up a copy at SOIL!)
Mike, if you haven't heard yet, everyone was very impressed with these, and hopefully you'll have some more work coming your way.