I've been hanging out in outer space quite a bit over the past few weeks. So have you as a matter of fact. After constructing a larger icosahedron, I set it up in my studio to ponder what the hell to do with it.. eventually it will be part of a performance that will be documented on video. There are a few elements that still need to be constructed; a helmet/steering column and some type of recording device. So far, it's off to a good start.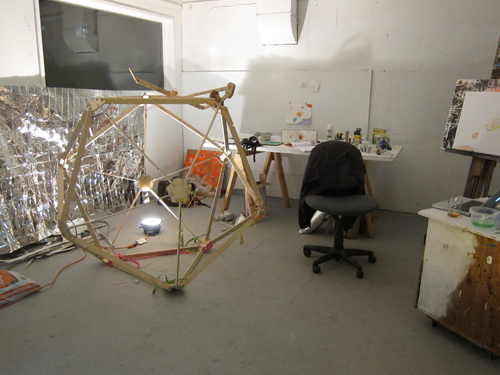 The straps at the bottom go over my shoulders. Being inside the ship is a fantastic experience, and it's amazing how comfortable and non-aggresive the form is. I miscalculated the width of the table saw blade, and in the end I had 29 edges instead of the required 30. Reveling in this opportunity, I had some fun constructing a door to take the place of the missing 30th edge.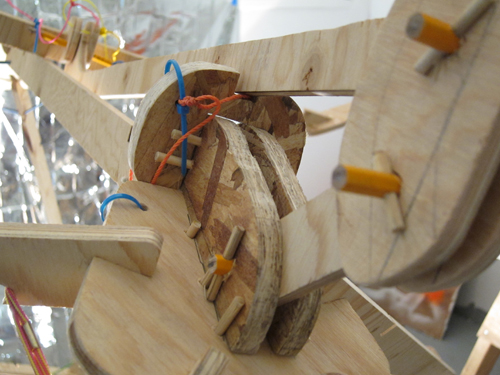 Above is the hinge, and below is one of the latches.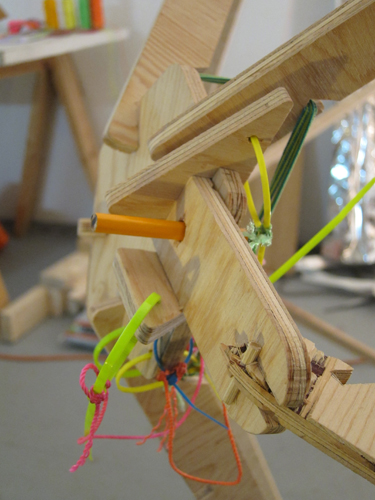 .
The whole ship can be deconstructed and reconstructed into an alternate form that I can wear as a backpack; perfect for more intimate space exploration missions or walking through doorways..
For the past few days I have been working on a collaborative project with Rachel Watson. We both tend to hang out in outer space quite a bit, so I came up with a proposal. I've been busy sewing together the pieces of an alternate form of the icosahedron with fluorescent pink twine (my hands are pretty raw at this point). The final piece is going to float and slowly spin around, hopefully projecting some form of Rachel's paintings on to the walls of a room. Heres a peak inside the work in progress: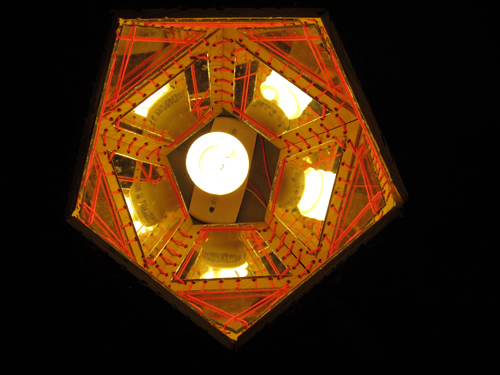 If you ever don't have the proper hardware to hang a mirror, make a note that florescent pink twine is an excellent alternative.
I had a studio visit from Carol Hepper a few days back, and about a half hour beforehand I realized that I needed a proper way to display the badges for the crew of my ship. Leaning toward the idea of presenting them as artifacts or medals of honor, I ran to the woodshop and crafted some pretty janky plyood stands for them. I put them on a shelf I made out of a piece of drywall I found in the hallway:
Carol is originally from South Dakota and is having a show at the Yellowstone Art Museum next year, curated by my old boss Robert Manchester… small world.
Lastly, Lia Lownthal is leaving VSC tomorrow, but she is also leaving us with an amazing installation which we intend to utilize as an alternative use space.
We're tossing around a few ideas of what type of events should be held in the space. So far I'm thinking of doing a group show, and hosting a sci-fi film fest. I just rented The Fountain, Space is the Place, and Zardoz from netflix.