Yesterday during our theory seminar with Colin, I was busy jotting down notes about the D I O S P E X project that I'm currently working on. We were having a Samuel Beckett marathon, and I was coming up with some interesting ideas regarding the use of film, and twisting around some of the original intentions I had for this project. Among them, I was considering parallels between the artist's studio and a sterile scientific laboratory.
After class I went to the wood shop to fabricate a support for the 9′ x 12 yard roll of 'ultra white' seamless backdrop paper that I bought earlier in the day. After vacuumed my entire studio, I installed the backdrop. It's kind of fun wearing white booties and gloves, trying not to get anything that is white dirty.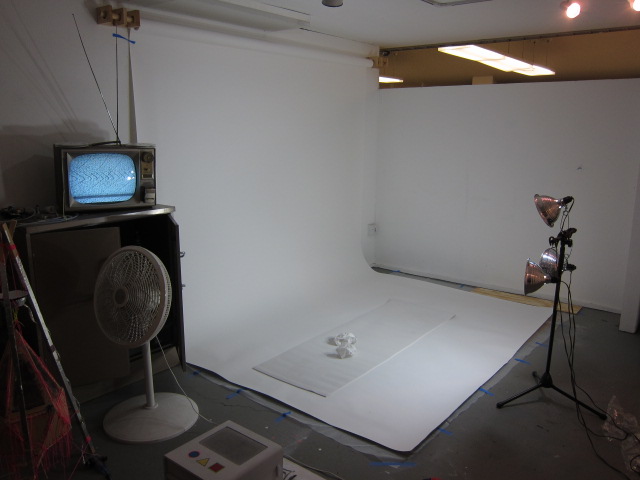 The next consideration is wardrobe. I'm debating between a traditional Kundalini Yoga outfit, a variation of a traditional outfit made from modern synthetic fibers, or perhaps one of the clean room suits that Richard Ross offered to let me borrow. He has twenty of them from a extensive project he did photographing inside the labs at NASA.